Senior Web & Content Strategy Manager at Netlify
Website and Channel Optimization • Technical Content Marketing • A/B & CRO Testing • Front-end Development • User acquisition • Growth • Analytics, Attribution, & Reporting
Technical SEO, Site Lead, Content Marketer, Acquisition: Scott Mathson
At Netlify I focused on leading web-based growth programs, alongside so much more as an early teammate.
Formed their acquisition marketing strategies - from SEO, to email marketing, to social media, demand gen, and far beyond. Oversaw all of Netlify's web properties and other channels' strategy, success metrics, and analytics reporting to stakeholders weekly. I led multi-department initiatives to drive awareness + acquisition from organic channels resulting in 3x unique visitors YoY on core marketing sites and 4x on microsites. Organic is now their highest-referring and highest-converting channel. Reporting into the VP of Marketing, while building meaningful relationships with the CEO, CFO, investors, and other key leadership.
I lead SEO, i18n, and overall web optimization site-wide and manage budget, contractors, and internal resources therein. Test and optimize new channels and content syndication processes, off-page on relevant channels. Co-led a sweeping brand design, visuals, and messaging refresh, selecting creative agencies and coordinating launch planning and timelines. Helped form a diverse and inclusive marketing team - recruited, interviewed, hired, and on-boarded a well-rounded team.
Overview
Formalized Netlify's Blog content program - strategy, content pillars, core metrics and goals, pruning, and management of the content schedule and editorial calendar.


Oversee site-to-app strategic conversion funnel optimizations and experiments. Work across all levels of the org, collaborating on product positioning, content, and go-to-market strategy.


Implemented campaigns, programs, and initiatives to raise brand and product awareness — Interactive, multi-channel campaigns, new microsites/publications, & educational courses.


Started and led monthly content planning meetings, internally with DevRel, Product, Community, and others, and externally with contractors and our strategic industry partners.


Edited and reviewed all blog posts, case studies, guides, and creative assets therein, ensuring that tone, naming conventions, and strategy were always consistent and optimized.


Oversaw the launch of both Technology and Agency/Business Partners directories and programs - recruiting, onboarding, and co-marketing with partners.


Formed A/B testing and conversion rate optimization experimentation programs/ frameworks.


Conducted competitive, industry, and customer research to launch new pricing tiers and usage-based billing strategy late-2019 for individuals, SMBs, and enterprise accounts.


Brought to light and led domain spam mitigation initiatives, including migrating malicious spam sites from *.netlify.com to *.netlify.app. Mitigated Google and Bing Search Consoles' domain penalties, managed customer campaigns, messaging, and timeline.
Netlify.com
From site-wide redesigns, to IA and navigation iterations, to marketplace strategy and planning, to resource + community + other directory/hub launches, migrations, and far beyond, I've played a key role in ensuring that we consistently keep raising the bar on Netlify's website. Consistently advocating for cross-domain and internal optimized linking, data-based decision-making, and a focus on organic acquisition site-wide.
I formalized the A/B testing tooling and experimentation frameworks across multiple domains, monitor and increase domain health (see spam mitigation initiative mentioned above), optimize attribution and events-based tracking site-wide both client- and server-side in Google Tag Manager, Segment, and the internal data warehouse. I oversaw strategy for pages like these targeted, framework/technology solutions pages for Nextjs, Gatsby, Drupal, as well as market/industry solutions pages like eCommerce on Netlify, and many more.
Some recent developer-focused initiatives that I've played a key role in the success of, include: "Jamstack Explorers" - a developer education site and webapp, 1 Million Devs - an interactive, multi-channel campaign and content celebrating 1M active developers on Netlify, functions.netlify.com microsite - a directory of serverless functions code examples, and more.
Some recent enterprise-focused initiatives that I've played a key role in the success of, include: the redesign of /enterprise/ page itself (alongside calls-to-action site-wide funneling here), Technology Partners directory and accompanying content and assets (more information in content section, below), resource hub, iteration on customer case studies, Business plan specific pages (pricing example), and more.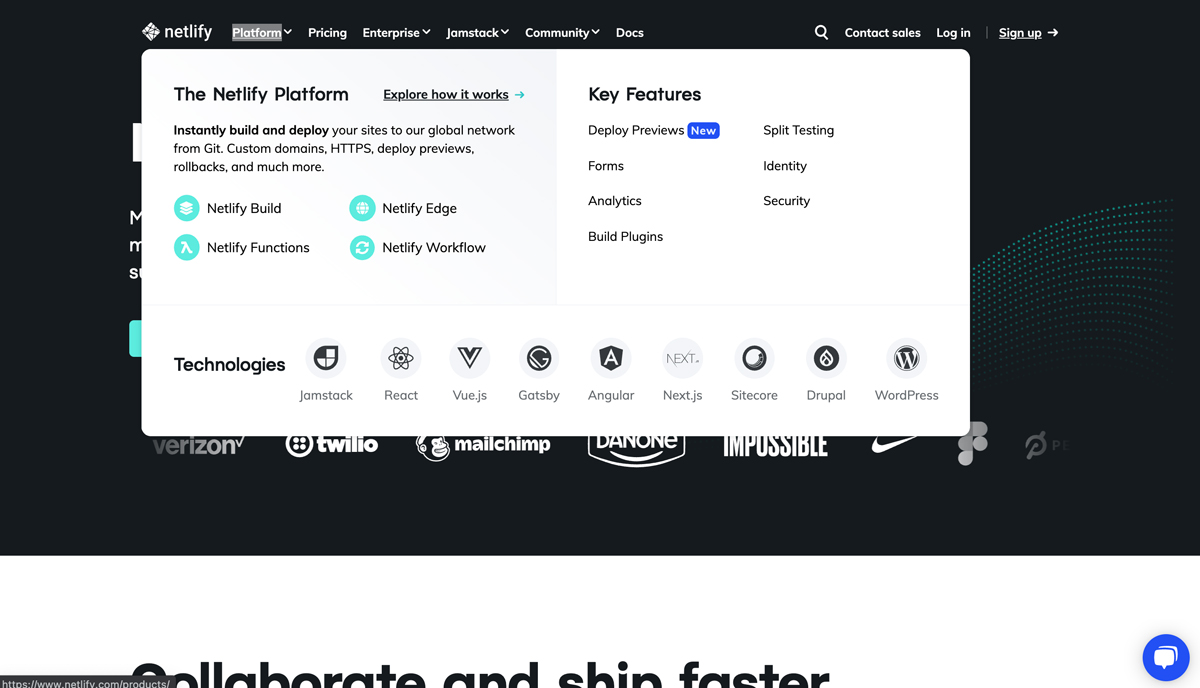 Jamstack.org Microsite migration and redesign project
In 2020, I co-led a large undertaking of a redesign and multi-site migration/consolidation of key Netlify web property https://jamstack.org/. Noticing the fragmentation, repeat/duplicate themes and content between multiple Netlify-owned web properties, I internally led a migration strategy that pulled together the contents of 3 of these sites - staticgen.com, headlesscms.org, and jamstack.org - bringing the underperforming microsites' pages into this 1, central jamstack.org domain.
Together with Phil Hawksworth, Netlify's Director of Developer Experience, and an external front-end contrator David Darnes, we not only consolidated the contents, but optimized the information architecture and URL structures, added directories and wrote their sitemaps, Schema markup,
Jamstack.org now ranks highly for high-intent queries like static site generators, headless cms, as well as having pages that now rank on page 1 for a variety of branded queries like Strapi, Ghost CMS, Sanity CMS, alongside thousands of other relevant queries. This site now gets multiple millions of monthly impressions with a ~7% CTR (more than doubled, post-migration/redesign) in organic channels.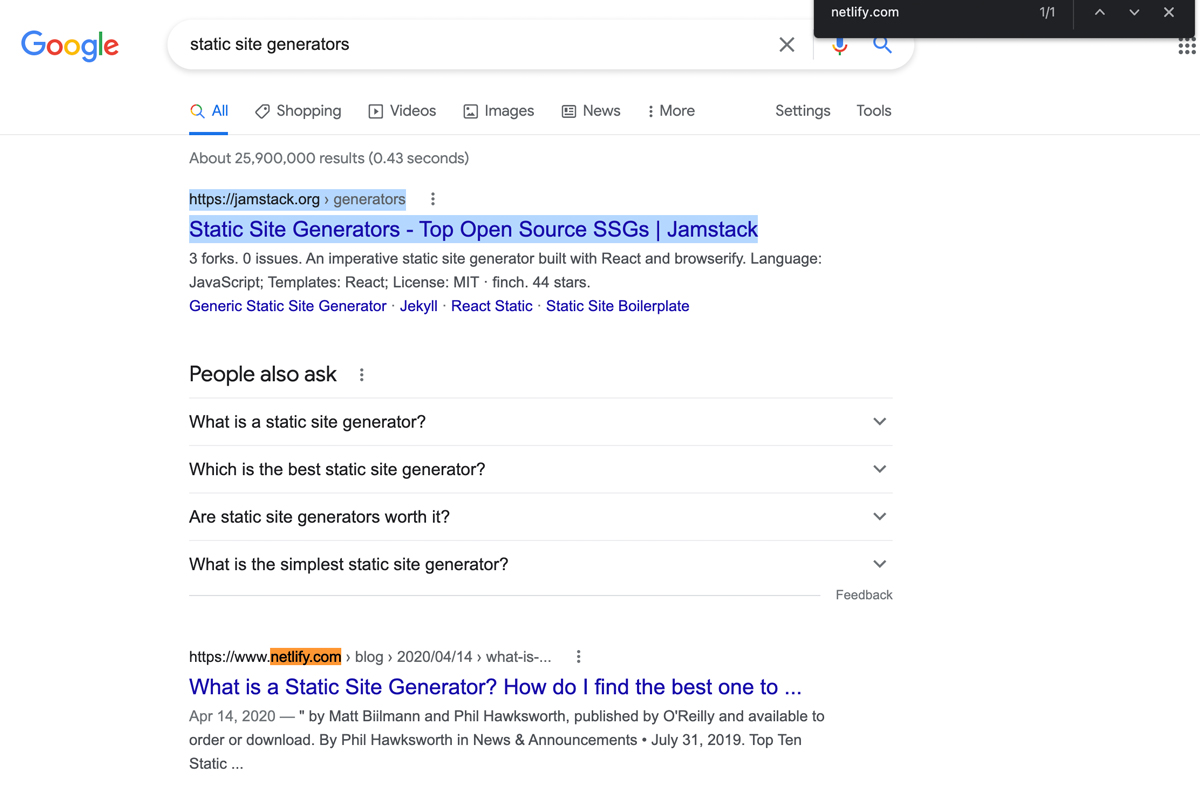 More stats - Oct 2020-May 2021 compared to Feb 2020-Sep 2020:
site traffic has quadrupled since Oct 2020
visitor engagement - pages per-session - is 3x higher
organic acquisition channel unique visitors increased 100%
175% increase in referrals from netlify.com to jamstack.org (optimized linking strategy)
average time on page more than doubled
bounce rate cut by -20%
Content Marketing
A few articles on Netlify's Blog written by me, include:
Though my name isn't listed as a primary author on a lot on Netlify's Blog, I played a key part behind-the-scenes on formalizing this content program. I led monthly content planning/brainstorming meetings, performed keyword research, and worked with developer relations teammates and other contributors on developing, editing, reviewing, and publishing new blog, resource, product documentation, and other marketing site content.
Just some of the examples from Netlify where I've been in this critical behind-the-scenes role, include:
---
Netlify is a multi-million dollar ARR SaaS startup with a talented, globally distributed team. Netlify offers hosting, CDN, and serverless backend services for web applications and static websites. Its intuitive, developer-first Git-based workflow and robust platform makes building, testing, deploying, and collaborating on modern web projects a dream! Pioneers and advocates of the Jamstack architectural approach. Customers include organizations like Twilio, Peloton, Mailchimp, Nike, Unilever, and many more.