SEO Manager - Web Development, Content Marketing, Strategy at Auth0
Websites Optimizations, Front-end Development, Internationalization • Content Marketing • A/B Testing • Strategy • Growth • Analyzing & Reporting
Technical SEO, Content Marketer, Optimizer, Growth: Scott Mathson
Overview
Content marketing, editing, refreshing, and reviewing


Overall optimizations for search results, position in rankings, and gaining featured results


Experimentation and CRO and A/B testing throughout the Auth0 website


Writing and presenting process and procedural documentation for Marketing Dept.


Website health/performance auditing, monitoring, and resolution of any errors


Ongoing focus and strategy development for increasing CTRs (click-through rates), ultimately bringing in new visitors and increasing product signups


Web markup optimizations, writing structured data, metadata enhancements, accessibility, and general front-end web development


Planning strategic marketing campaigns aimed towards specific segments, markets, sectors, and brand awareness


Ongoing internationalization and webpage translations, focusing on EMEA and APAC regional growth


Managing redirects, content migrations, sitemaps, robots.txt files, and micro-properties/domains


Interview with Auth0's SEO Manager Scott Mathson - Content Marketing, Backlinks, Growth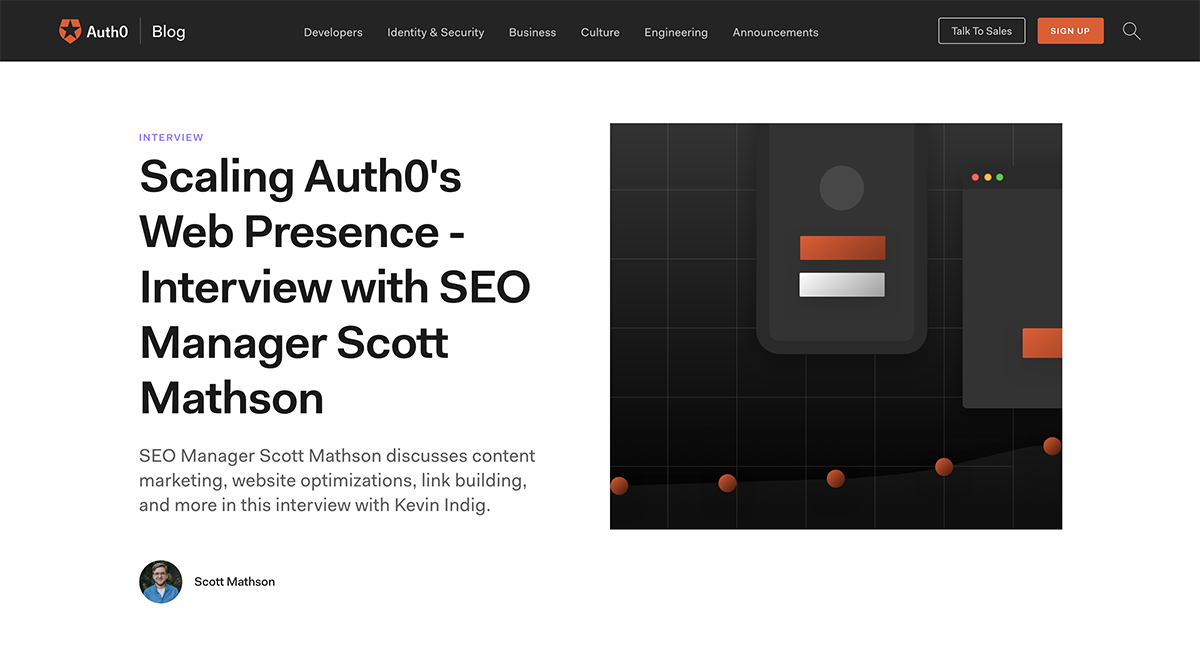 From 200K to 4.4M backlinks in 2 years - this interview of mine originally appeared in VP of SEO & Content at G2, Kevin Indig's, Tech Bound marketing newsletter on July 24th, 2019.
In this, I dive into some of the strategies for organic growth that I've been focusing on at Auth0. This interview covers content marketing, SEO, and web development/optimization in general, and strategies for achieving consistent organic growth across our domains. Alongside information about the link building, experimentation, globalization/translation of our site, and more.
---
Internationalization and global growth into Europe - Germany, United Kingdom, and APAC - Japan, Austraila, and other regions has been an increasingly great series of projects to work on. Beyond optimizing the markup, ensuring translations are as technically sound as possible, collaborating with teammates remotely from around the world is exciting.
My role as SEO Manager spans multiple websites, projects, campaigns, and departments.
Auth0 provides an IDaaS universal authentication platform for web, mobile, and legacy applications. Platform features include single sign-on, social login, multi-factor auth, m2m, and more. Loved by developers and trusted by thousands of enterprises in more than 70 countries. Clientele includes organizations like Mozilla, Atlassian, VMware, AMD, Optimizely, and many more.