• 893 words
• By Scott Mathson
In April 2021 I wrote part 1 of this - a micro experiment's early analysis/retrospective - then reflecting on stats from 3 months of having cheapclassictrucks.com domain name and its matching @cheapclassictrucks social handle. For more background around how/why I started this classic truck niche experiment, check out the first article here.
What can a semi-exact-match name and handle organically do on its own, without much effort and promotion?
Recap on CheapClassicTrucks.com
On 01/05/2021 I bought this domain and setup social accounts for CheapClassicTrucks. A silent launch with very minimal, upfront time and promotion investment. I was simply curious to see what this name could do on its own.
At that time, I had only spent about 5 hours putting together a few assets to run its validation test:
Bought domain, spent ~2hrs building very basic submission page
Spent ~2hrs creating basic imagery, creative asset templates
Put 3 "coming soon" posts up on IG and didn't touch social/website again until May 2021
At that time, 1 quarter in - 3 months later, with minimal effort put in, it had organically gained some traction.
Jan to Apr 2021, CheapClassicTrucks had:
100 Instagram followers via exact match handle/name search
10-15 posts and story @ tags, here and there
900 unique web visitors over 3-month period via exact-match, type-in traffic

Oversight on my part: site wasn't even submitted for indexing until I realized this and spent ~5min verifying/submitting sitemap in Google Search Console on April 03.
Where CheapClassicTrucks.com stands today
Again, this isn't by any means a viral story. Is it even fully validated, and worth pursuing? I still don't know yet. For now, I'm just having fun re-sharing some classic trucks that I'm occasionally browsing through anyways.
Since that original 3-months-in post, here are some updated stats. Now, a few quarters in - a total of 9 months later, and again with minimal time investment. Things have organically gained even more traction.
Jan through Oct 2021, CheapClassicTrucks had:
600 Instagram followers via posts, recommendation + search discovery
Many DMs, story tags, and messages/comments show CCT is being seen as credible/appreciated in the space
~2,000 unique web visitors, with impressions growing at a good rate since website content started being created
28 webpages are now live + indexed in search (majority including re-shared posts/listings, some re-purposed blog posts)
15 social posts have gone live, with decent engagement on each post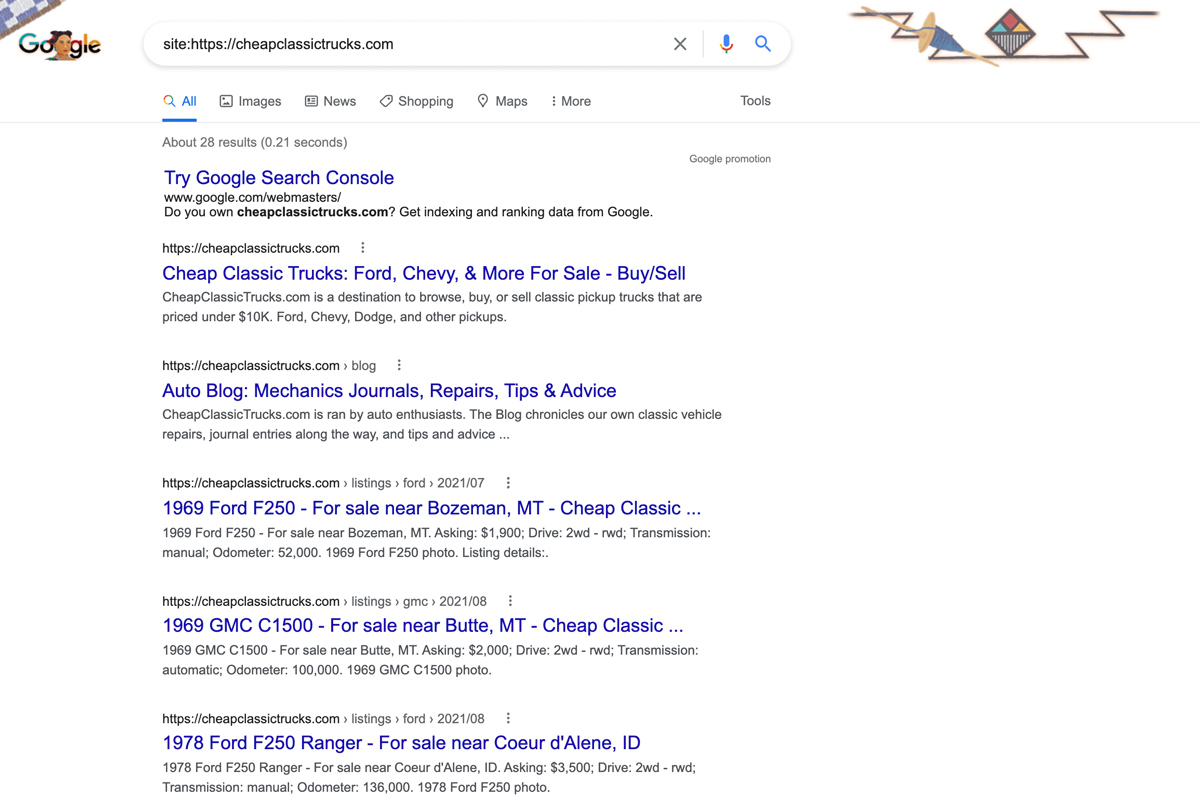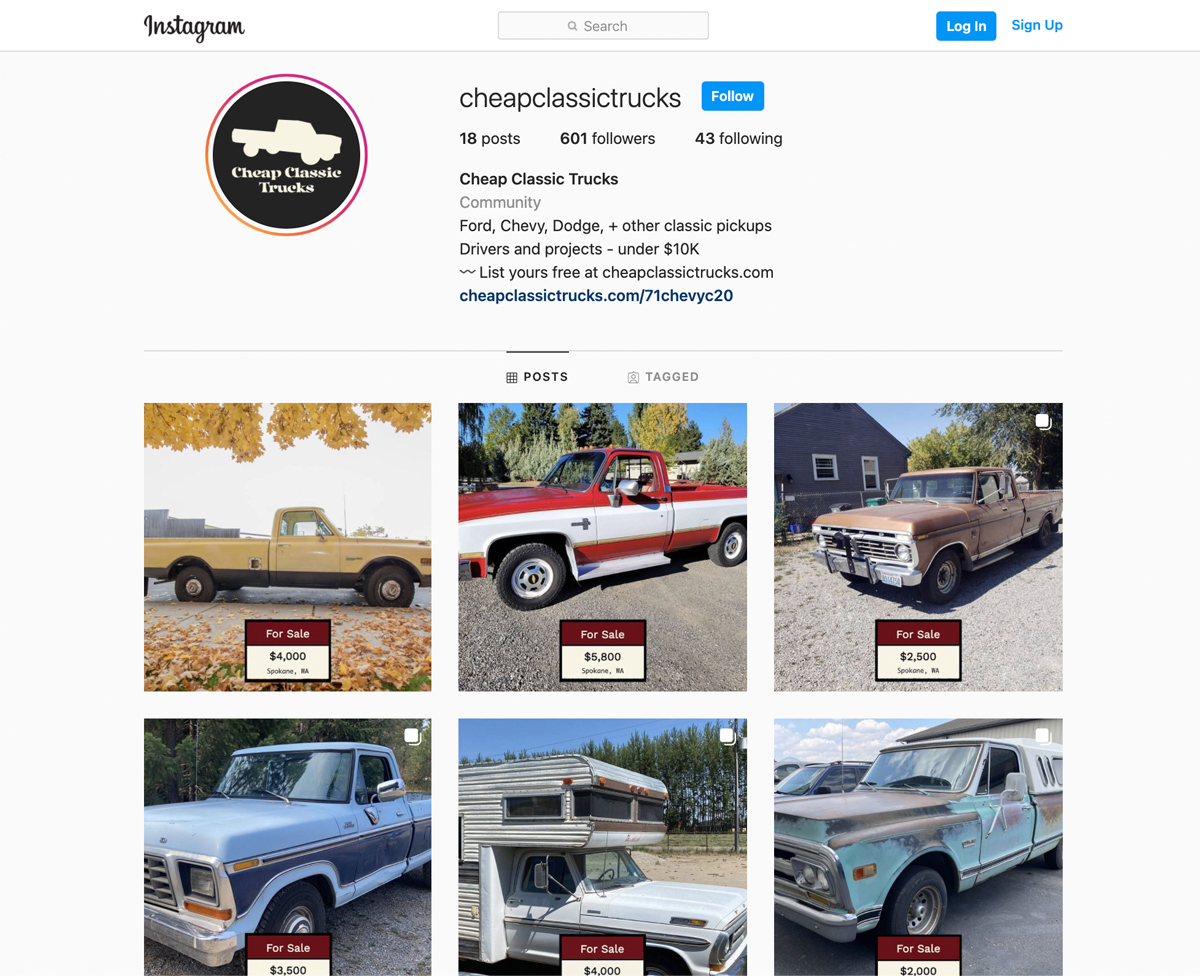 Google Search Console showing Impressions (purple line) growing, Clicks lagging.
I definitely spent more time on CCT since that initial retrospective post, yet it hasn't been a heavy side project lift, by any means (this write-up is easily the most time spent on CCT-related things, all month).
I've shared 15 posts (and created a CheapClassicTrucks.com listing write-up post for each) between May - October 31, 2021 - averaging a light 2.5 posts per month workload. CCT social page followers, now at 600, have been consistently increasing. CCT organic website traffic is so-so.
---
Browsing classic trucks on Craigslist and other marketplaces is something that I do a couple of times per month anyways, primarily to value my own 1971 Ford F-250 pickup and to shop parts for that project pickup. When I see a listing that's a great deal and/or worthwhile to create a short post about on CheapClassicTrucks, then I do so. Again, the cadence has been just a couple of times per month for the past 6 months or so.
I'm treating this all as an experiment, still. An experiment to see what a domain name/social page like CCT will organically do on its own, with a bit of my time invested here and there.
Perhaps I'll build a proprietary marketplace to buy/sell classic trucks once a bigger audience has been grown here, or perhaps not. Perhaps a domain name investor will throw an offer my way, and I'll then have more IP built-up to include in the sale, or perhaps not. Perhaps @cheapclassictrucks will grow into being a highly followed account like @classic_fordtruck_trader (67K followers), or @cheapoldtrucks (118K), or @cheap_classics (105K), or perhaps not. Perhaps I'll start to personally blog about my own '71 F-250 project truck repairs, including tutorials and buying/parts sourcing tips, or perhaps not. We'll see!
For now, I'm seeing what it does with this MVP framework and little time investment in-place. I don't have any real expectations set for this, so as of now it's neither exceeded or fallen short. CheapClassicTrucks is exactly what and where it is right now. I plan to continue to occasionally post/re-share people's vehicle listings here, and see what the social page/website can continue to grow to.
Thanks for reading this update. What niche/market are you scoping out or running mini experiments in lately? Tweet me about it @scottmathson.
Are you into classic rigs, too? Follow @cheapclassictrucks on Instagram!
---
Thanks for checking this out! Subscribe to my newsletter for more.