• 2483 words
• By Scott Mathson
Have you ever searched Google for answers to "What is a DNS Server?" or "What are the different types of DNS servers?" or "What is DNS?" or even more broadly "DNS"? If so, you've surely come across results from Cloudflare. And that is not by chance, alone.
Interested in learning how Cloudflare ranks for nearly 8,000 highly searched keywords in the span of 32 webpages? Read on!
This article highlights Cloudflare's DNS content hub as the main case study, and shows what a solid web content strategy can return in terms of rankings in search. Using publicly-available data and figures, I showcase what this approach has actually done for Cloudflare.
There's a lot to unpack and analyze here, so I'm releasing this case study in a series of posts. The next part explores organic traffic analytics - subscribe to the newsletter to be notified when more parts of this series are published.
Worth noting: beyond using their CDN and other products and services (including DNS), I have no affiliation with Cloudflare. Yet I do have a deep understanding of this market, a decade-long career at the intersections of marketing, development, growth, and software, and I'm passionate about this industry.
Table of Contents:
Cloudflare's DNS Content Hub - Part 1: SEO and Keywords
Throughout this article we'll be looking at Cloudflare's DNS learning center pages (https://www.cloudflare.com/learning/dns/), including subsequent pages within this subdirectory (32 pages indexed in search as of April 2020). The entire learning center collection of content (/learning/), grouped into categories like SSL, CDNs, and more, is performing very well in search. For this case study, I wanted to zero-in on one section: the DNS content that collectively ranks for more keywords than most blogs, and does so within a relatively small span of well-crafted and thought-out webpages.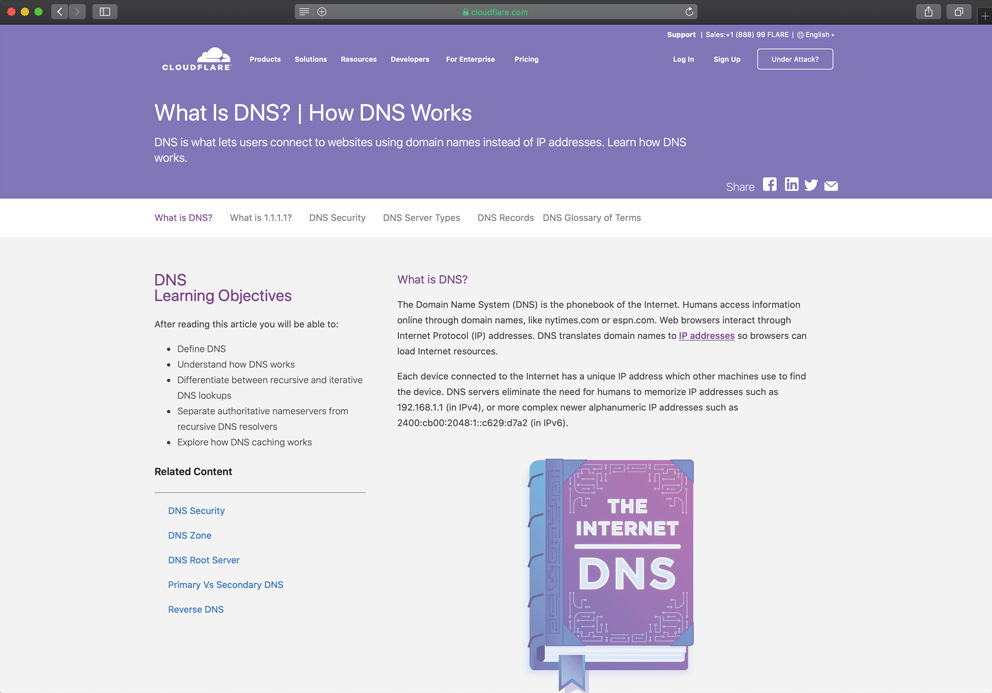 What does this mean in terms of search rankings for these DNS pages?
Looking ahead into the next part in this series a bit - from publicly-available data, we can see these pages account for xx% percentages of the entirety of total site-wide traffic from organic channels (search engines).
I go in-depth about keywords, positions in search, and much more, below.
---
First: Cloud who?
Cloudflare, Inc. is an American web-infrastructure and website-security company, providing content-delivery-network services, DDoS mitigation, Internet security, and distributed domain-name-server services (source).
Again, Cloudflare isn't a client of mine (I help organizations optimize and grow their web traffic and refine their content strategies) and I have no affiliation with them. I highly value research and learning and wrote this series to provide inspiration and insight into the potential outcomes of a thought-out content marketing and web strategy. I've worked on and continue to optimize a variety of web-based catalogs and content hubs myself, yet chose to write about one that I have no hand in beyond this case study analysis.
Domain Name System (DNS) is a core part of Cloudflare's business - they offer a DNS infrastructure with built-in DDoS mitigation that's used by customers like Crunchbase, Discord, Marketo, and Zendesk. From an internal case study with DigitalOcean (DO), showcasing how DO answers 10,000 DNS queries every second on Cloudflare's DNS platform, an engineer attests:
"Cloudflare's DNS Firewall is exactly what we needed to protect our DNS infrastructure. It is the leading company working in the DNS and web DDoS mitigation space." - Sam Kottler Platform Engineer, DigitalOcean
This DNS resolver's page is a great example of product marketing - this page owns top positions in search for both branded and non-branded queries relating to "1.1.1.1". As well, webpages living under the DNS glossary subdirectory (/learning/dns/glossary/) accounts for a large majority of the ranked content. Glossary content is a fantastic strategy as it both educates current and new customers and facilitates more discovery/awareness via showing up in searches of context keywords relating to the main pillar.
Their content ranking so well in search undoubtedly means more signups and more revenue for the business.
---
Notes about the data and methods used in case study series
Before we dig in, I'm utilizing and sharing screenshots from industry tools like SEMrush - specifically sourcing data from SEMrush Research dashboard. This dashboard shows publicly available data based off of their database that consolidates information from a variety of sources across the web.
Within SEMrush, data can be filtered into views by country, by user-agents (devices like Desktop or Mobile), by date, and on. Here's how I average keyword- and traffic-based stats within these filtered views, for figures discussed throughout this series.
By country: Top countries visiting www.cloudflare.com:
Traffic to Cloudflare's domain by country (via SEMrush, Alexa Internet, SimilarWeb, and more):
United States (accounting for ~40-50% of total monthly traffic)
India (~5-10%)
United Kingdom (~3-6%)
Canada (~2-5%)
[China is also in the top (~18-22%), yet CN country data is not available in SEMrush]
Using United States data as a main source of truth, while including:
Averages from the top 3 countries outside of US visiting Cloudflare's domain

India, United Kingdom, and Canada
Method/formula: US data sum + average of IN, UK, and CAN = value. This formula allows for a more manageable discussion and shows data from countries with majority viewership. I'll reference more of the formulas used, throughout.
I also utilized other tools like Moz for cross-referencing/double-checking stats, and of course inspected things directly in Google SERPs via "site:" searches, as well as on-page markup inspection in Chrome dev tools, etc.
Now, let's dig into some data.
Where this DNS content stands in search rankings
So, how do these DNS-focused webpages do in terms of search rankings and positions?
Looking at the subdirectory that houses all of this content (www.cloudflare.com/learning/dns/) - April 2020:
Collectively ranks for 7,800 keywords
Ranking for keywords with monthly search volume ranging between 1K-1.4M+
Of the 7,800 - 658 keywords rank in the Top 3 results in organic search

1,594 keywords ranking somewhere on page 1 results
Impressive, right? What could these type of rankings mean for your or your client's businesses?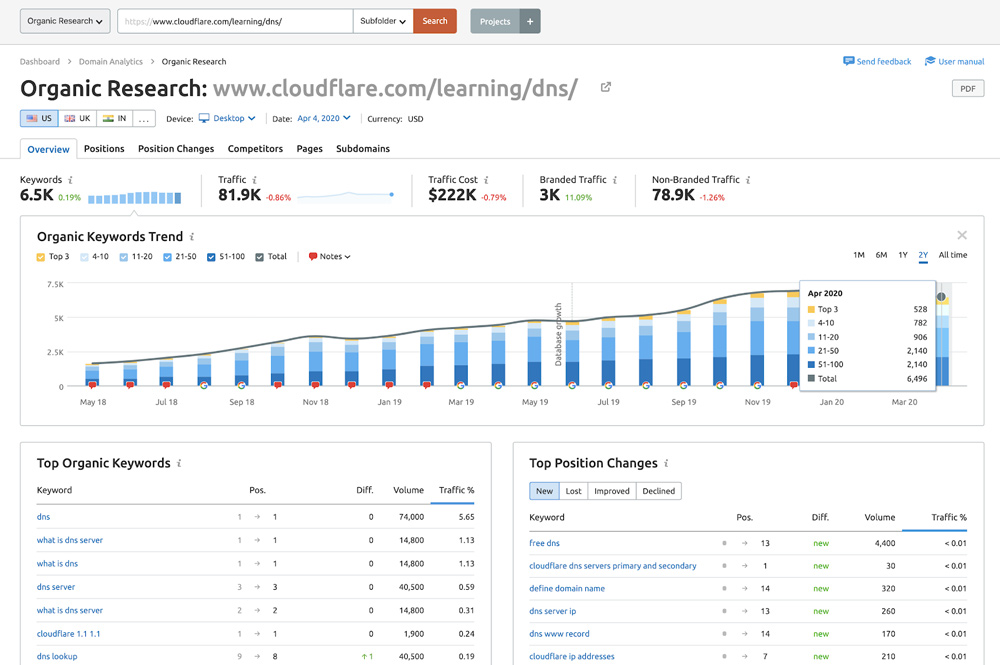 Keywords (kws) ranking stats method:
Cloudflare's DNS content hub subdirectory ranks for 6,500 kws in US (pictured above), while also ranking for 1,450 in IN, 1,350 in UK, and 1,100 in CAN (pictured below). These figures include kws this content ranks for within Google's top 100 organic results.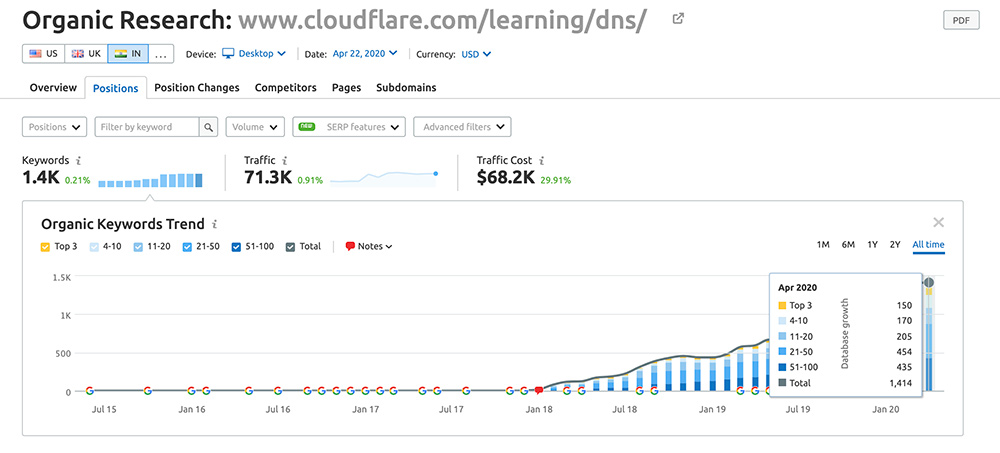 India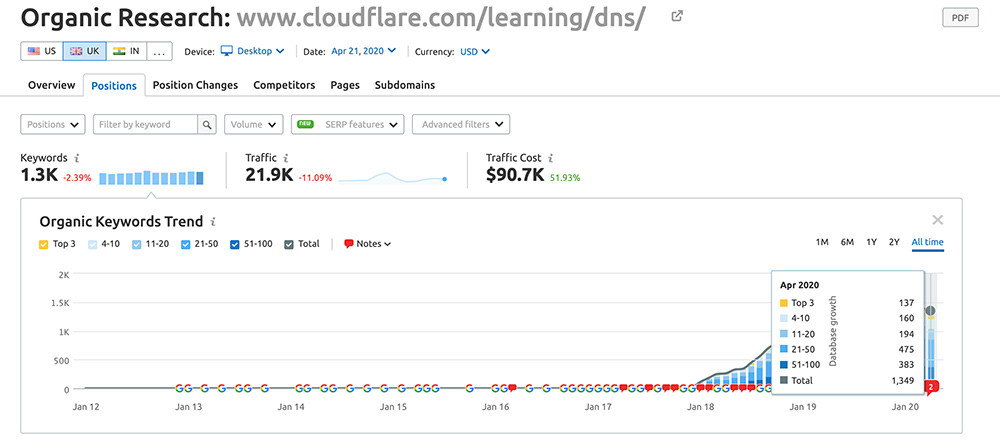 United Kingdom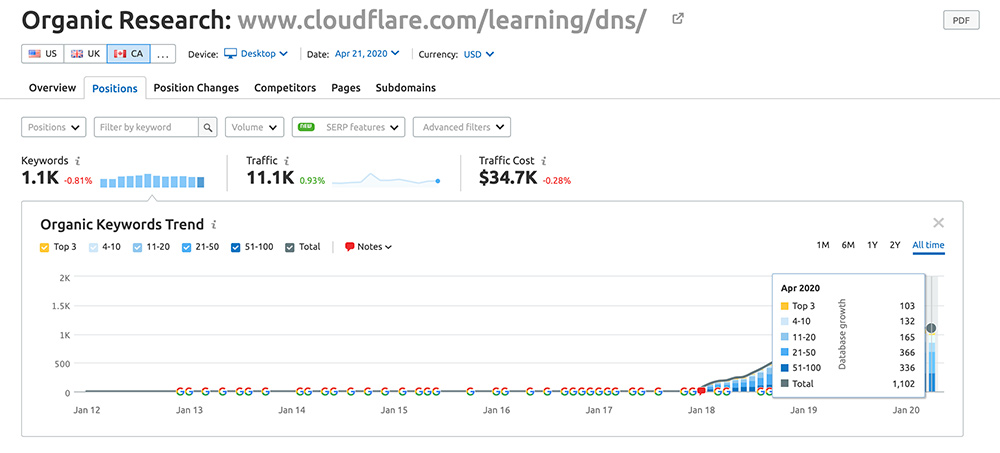 Canada
Screenshots from SEMrush organic dashboards.
Total keywords:
US kws ranking: 6,500 +
IN, UK, CAN average: 1,300

Cloudflare's DNS content ranks for 7,800 keywords
Keywords in Top 3:
US kws in top 3 organic results: 528 +
IN (150), UK (137), CAN (103) average: 130

Cloudflare's DNS content ranks for 658 keywords in Top 3
Keywords on page 1:
US kws in top 3: 528 + keywords in 4-10: 782 = 1,310
IN (320), UK (297), CAN (235) average: 284

Cloudflare's DNS content ranks for 1,594 keywords in on page 1
Again, I'm using the method outlined above, yet they undoubtedly rank for more across other countries and locales.
---
Rich results and search enhancements
These DNS pages hold a variety of rich results and search enhancement features like featured snippets within results on Google. Meaning that beyond ranking organic results position 1 (regular blue link listings) for hundreds of highly competitive, highly searched terms, some pages from Cloudflare rank for the dubbed "position zero" and have other enhancements, too.
Query: DNS - 74K US searches/month (1.4M global) - difficulty 80/100 (very hard)
Organic no. 1: What Is DNS? | How DNS Works | Cloudflare (https://www.cloudflare.com/learning/dns/what-is-dns/)
Feature: Site links - inline results to other pages and anchored headings within the subdirectory: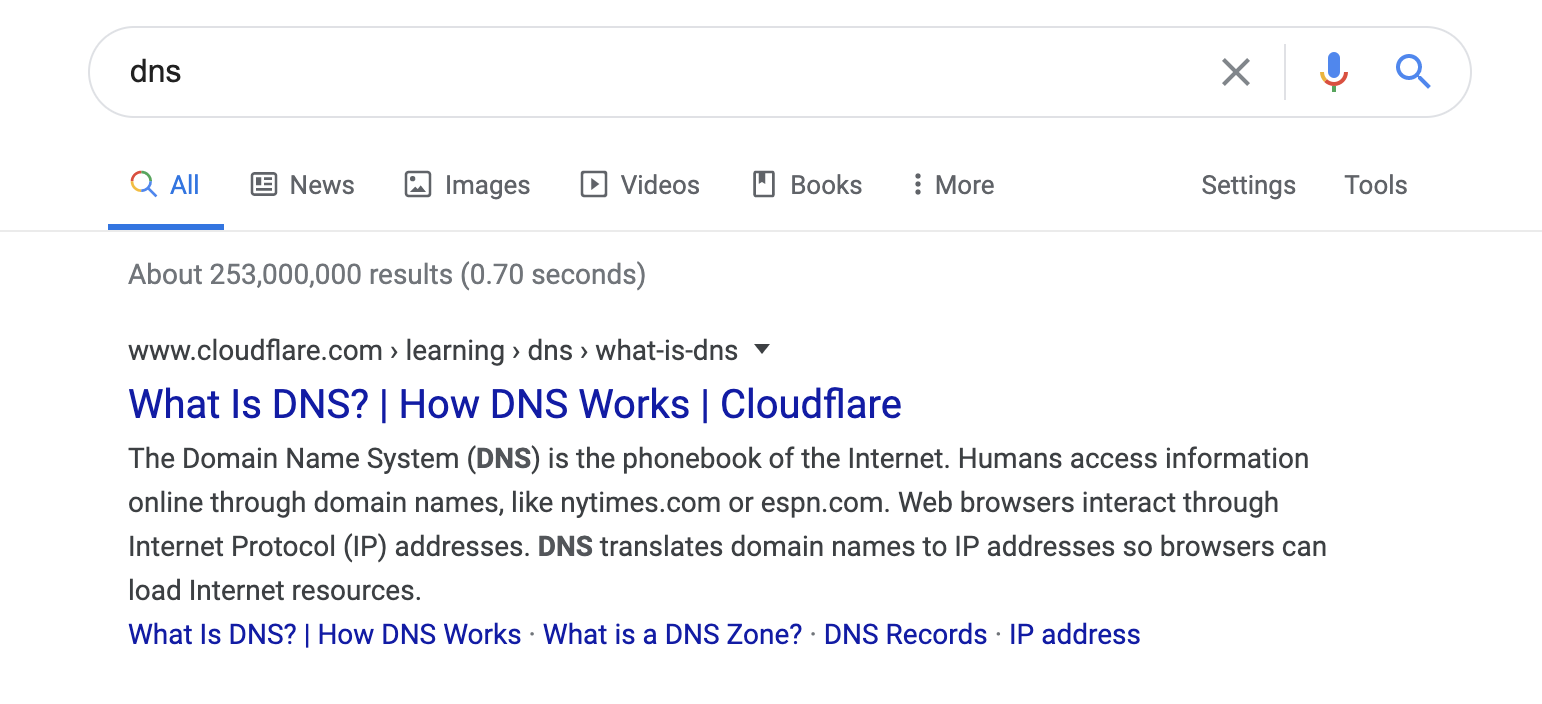 Desktop

Mobile
Query: DNS name - 1.3K US searches/month (4K global) - difficulty 82/100 (very hard)
Position 0 (featured snippet): What Is DNS? | How DNS Works | Cloudflare (https://www.cloudflare.com/learning/dns/what-is-dns/)
Feature: Featured snippets - featured results that showcase imagery, expanded descriptions, and other visual highlights: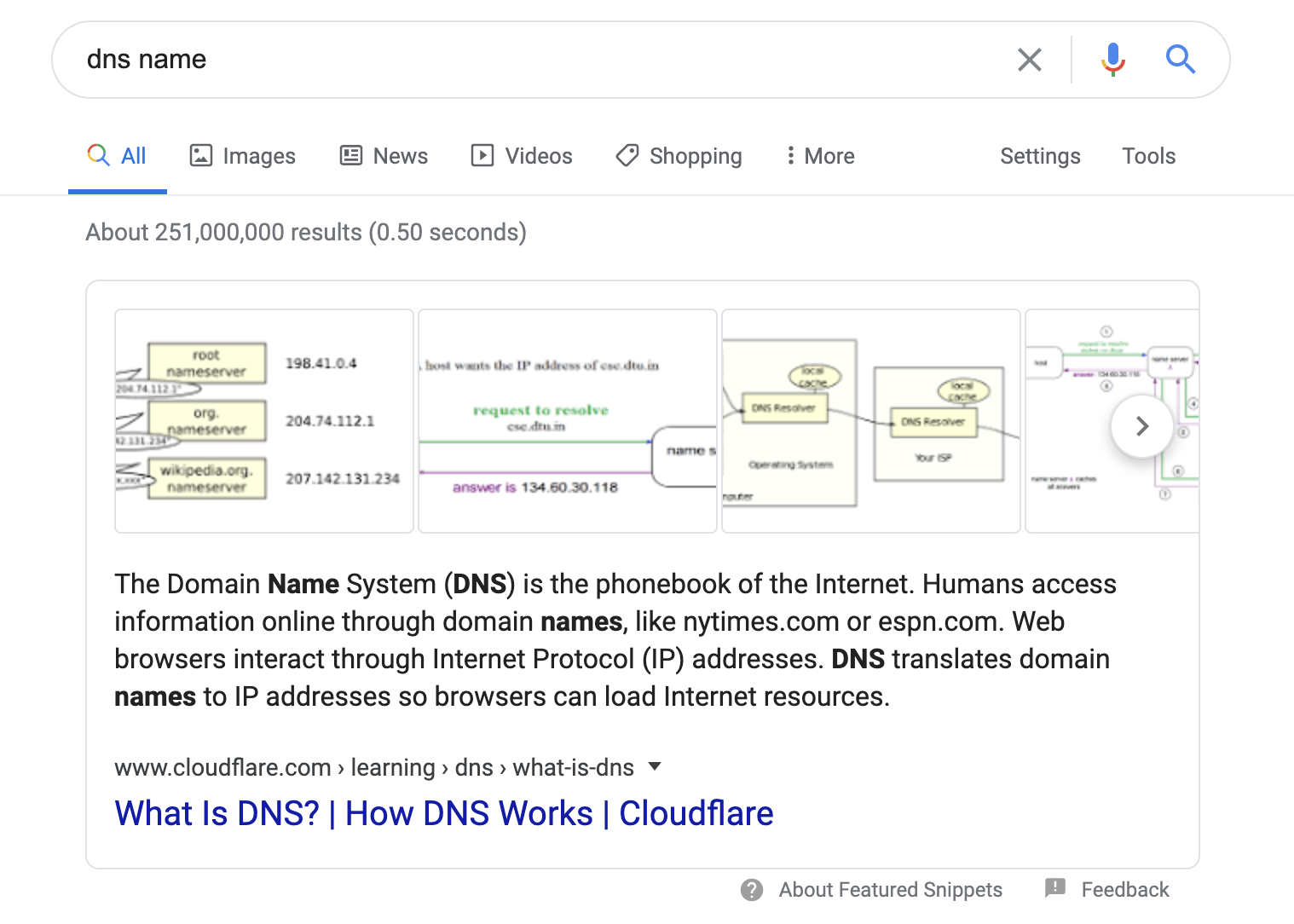 Desktop

Mobile (shifts to position 1 organic)
These examples are just two queries of the many that this content hub and subdirectory holds rich results and search engine results page (SERP) features for. They also rank for a variety of other terms with features including Knowledge Panel inclusion, People also ask, FAQ, Image pack, Video carousel, and more.
Beyond these results, and as pictured in the SEMrush organic research screenshot above, most terms that this content ranks for within the top 3 organic results (and page 1 and beyond) have consistently high monthly search volume.
The top 10 organic keywords bringing in the most traffic here average 25,000 monthly searches. Multiply that average search volume of the top 10 keywords to see that those keywords alone give this domain 2.5M impressions per month. I go into impressions, click-through rates, and more in future parts of the series.
On-page markup, i18n, and structured data findings
From both inspecting the on-page markup and other elements like the sitemap, here are a few takeaways.
They're keeping this content up-to-date - it wasn't a set it and forget it project - kudos to their approach! This content hub was first-published late 2017/early 2018, and in looking at the sitemap, we can see signals like showing updates to the content as recent as November of 2019.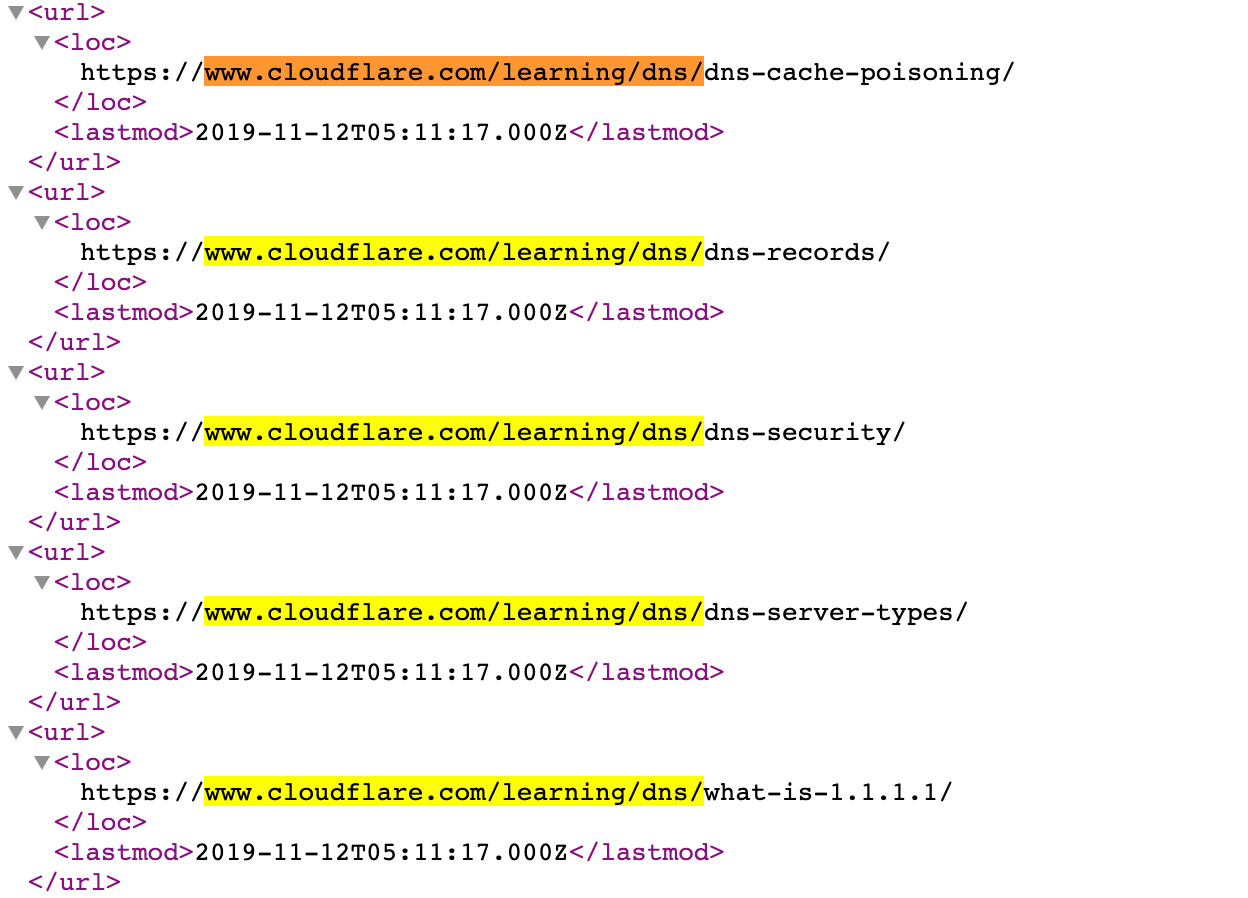 They may be running tests and experiments on these webpages. Inspecting the page markup in dev tools shows that Google Optimize is implemented via Tag Manager, signaling they're possibly running A/B and/or CRO tests on this content hub. Optimize scripts are called throughout a large majority of Cloudflare's marketing site, so whether or not they're running tests on this content, experimentation is a strategy that I continually advocate for. I'm seeing a handful of lead gen and other possible tests they should consider running.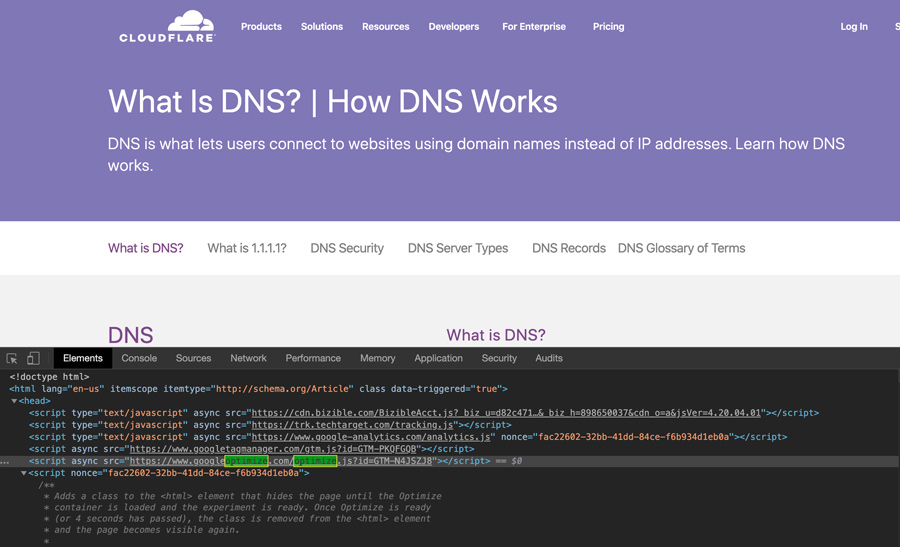 Some on-page and other international SEO markup optimizations could be had. Given their global traffic, among other factors, they have started focusing efforts on internationalization and localization of their content, including <link rel="alternate" hreflang=""> attributes (missing self-referencing hreflang) at the root, yet none in this learning center. Also, there is no inclusion of <xhtml:link> elements with hreflang in the sitemaps. So, they do have some optimization opportunities in way of i18n.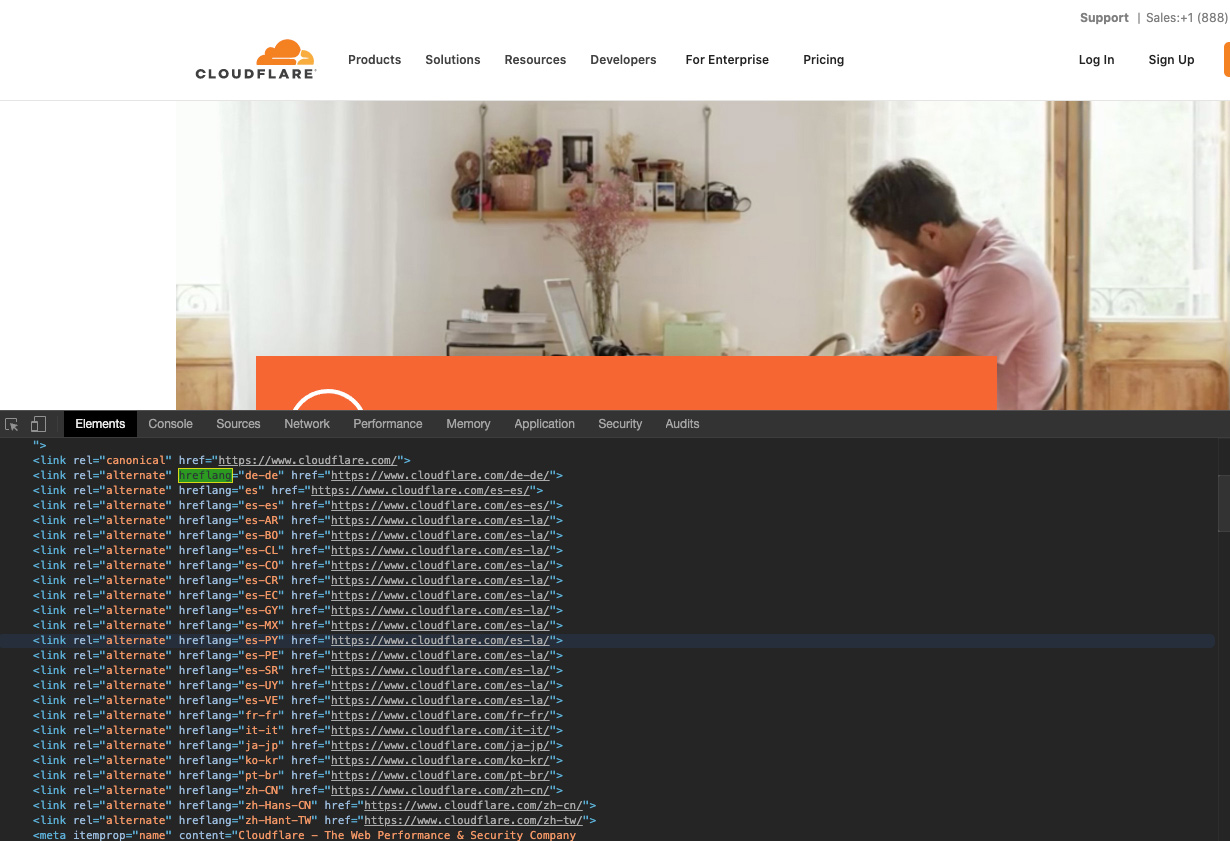 homepage with rel="alternate" hreflang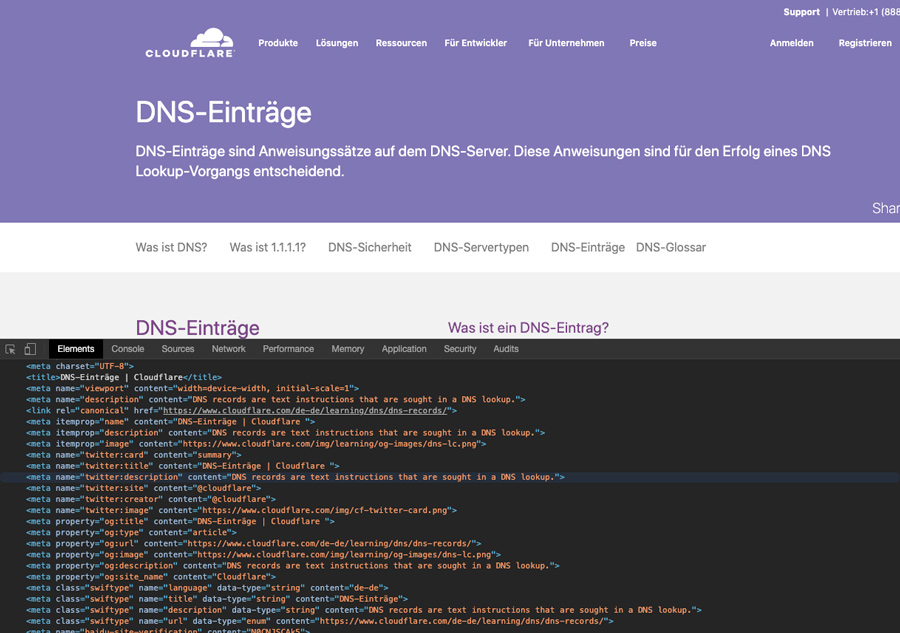 de (German) translation, yet no hreflang
Looking at the structured data, their Article Schema implementation has some inline errors. Inspecting further reveals that there's optimizations to be had that could possibly make them eligible for even more, rich results and features in search (Google structured data testing tool result).
Overall, their learning center content has been and continues to be a very solid strategy for them that they'll see returns on investment from for years to come. I've thoroughly enjoyed analyzing this content hub.
---
Next up: Cloudflare's DNS Content Hub - Part 2: Organic Traffic
I choose to analyze Cloudflare's DNS pages as they're a great example of authority, reputation, and credibility building through content. This hub shares their thought leadership, and because I can't resist adding this pun, domain expertise.
Naturally, I've conducted more organic research and explored this content hub much further, outlining what kind of actual traffic their ranking for these keywords bring in on a monthly basis. Traffic analytics is the core focus of the second part of this series. Beyond that, other future parts explore even more data from my analysis of this Cloudflare content hub - including backlink analysis, information architecture and internal linking, and more.
Subscribe to emails below to be the first to know when more is published.
Cloudflare's DNS Content Hub Case Study - Pt. 2: Traffic - Teaser: nearly 50% of the 74,000 people searching "dns" in Google, each month, end up clicking on Cloudflare's result. One keyword, one landing page - bringing in 34,780 organic visitors to the site per month, 104,340 per quarter, and 417,360 per year.