Web, Media, & Marketing Manager at DIY Pete
Web Design + Development • Marketing • Strategizing • Filming • Producing
Designer, Director, Maker, Producer: Scott Mathson
Overview
Managed and developed the website, media, marketing, SEO, advertising, B2B sponsorships, social media, blog content, and email marketing efforts for the Think Entrepreneurship brands and communities (DIY Pete, Signs of The Mountains, and Think Entrepreneurship - SOTM business has been acquired)..
Coordinated complete website redesign and overhaul, design and development, and SEO and content re-work of diypete.com and sister companies/web properties.


Direct result of the major projects conducted led to diypete.com site visitors increasing rapidly month over month, and doubling organic new visitors year over year, all organically - no paid.


Producing a content marketing machine - video content, blog articles and tutorials, downloadable plans, and much more.


Directed, edited, produced, and released video and blog content on a consistent, weekly schedule in 2015 and 2016. Grew the audience (at that time) to over 55,000 YouTube subscribers (more now), multiple-million views, and thousands of email subscribers.


Communicated and collaborated directly with the Founder, daily.


50% remote work
Large, milestone projects
Launch of the Signs of the Mountains Website (product launch, Q2 2015)

Changes made, as SOTM business has since sold/been acquired
Launch of DIY Pete Website (product launch, Q3 2015)
Consistent launch of Weekly Content (content launch, 2015 - 2016)
Doubling website visitors, organically (strategy, 2015 - 2016)
As manager of multiple efforts, I found it imperative to make some technical changes, incorporate best practices, and implement various search engine optimization strategies. The results in the website's organic traffic growth speaks for itself.
Did I spend as much time on SEO as I'd like? No. Time, budget, and ultimately business strategy and allocation of my time spent, didn't allow for extensive SEO work. The focus was on creating and marketing the content, and the site's redesign.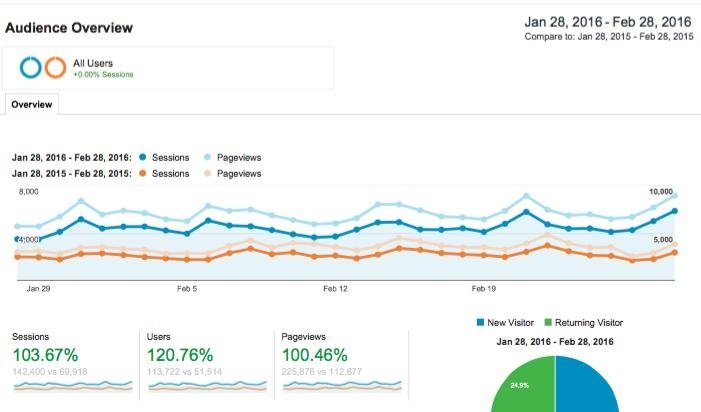 YoY look at Analytics
Technologies, Tools, and Languages
Full-stack, all-around marketing development
WordPress, BigCommerce, Gumroad, PHP
Photoshop, Final Cut Pro, Google SketchUp, and Illustrator
Google Analytics, Adsense, AWeber, MailChimp, and more
---
Just for fun: Where's Scott?
I deeply enjoyed filming, editing, producing, and marketing the content we put out under the DIY Projects with Pete brand. Sometimes I got in on the action in front of the camera, too. You can click into some of these videos to see my brief "cameos". Cheers!
I appear throughout this Wood TV Console video, helping Pete build, film, edit, and produce this content. For the majority of tutorials, I made accompanying Google SketchUp plans as well.
"Scott is a hard worker and someone who is dedicated to setting goals and obtaining them. Scott is knowledgeable of content creation, content management, SEO, and online marketing. Scott played an active roll in making sure tasks and big projects were done effectively and efficiently. He is proficient in video editing, filming, and Youtube video creation. Scott is also a very personable, reliable, family oriented, and great all around person." - Pete Sveen
Pete is a great guy and we've developed a great personal relationship, staying in touch and consistently helping each other out. Into woodworking? Check out the tutorials and content!